Aloha everyone! It's Wednesday night and I'm at the Honolulu International Airport waiting for my flight to San Francisco where I'll transfer to a smaller plane for the flight to Boise, Idaho and the 2014 Pacific Regional Forum. I'll be posting daily about my experiences and hope that you'll follow along and get a taste of this AA event. Don't forget, Hawaii Area 17 will be hosting the 2016 Pacific Regional Forum in Kona on Hawaii Island.
For those who don't know, a Regional Forum is an event put on by GSO at little or no cost to the host area, though we do have to supply a bit of research, publicity, and a lot of hands to help out when we get closer to the event. Stay tuned for more information as we enter Panel 65 next year.
Members of the GSO staff, trustees past and present, Grapevine representatives, and many others will be on hand to answer our questions and let us know what it is they do. It's an educational event more than anything else and to insure that as many possible turn out, registration is free for all.
Here's what our agenda looks like: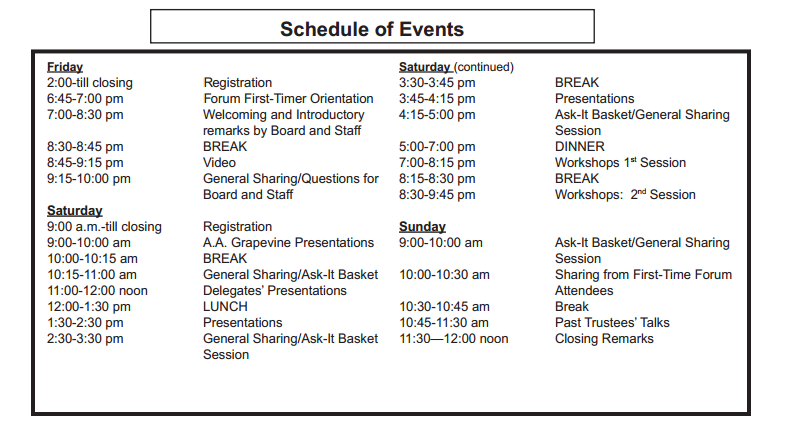 As you can see it's a busy time but there is ample opportunity to ask questions as you can see from all the General Sharing/Ask-It Basket slots.
Anything you'd like to know? Send me an email at chair(at)area17aa.org and I'll see if I can get an answer for you.
Last night I spoke with our Alternate Delegate, Cheryl N., and today with Ken K., our delegate. We aren't sure if anyone else from Hawaii Area 17 will be in attendance, but we'll be sure to let you know. All of us are looking forward to experiencing this event, especially as ours is coming up so soon.
One thing I am looking forward to is having lunch with all the other Pacific Region Area Chairs with whom I shared so much at this year's PRAASA. Those of us who are attending plan on a Saturday get-together to continue the dialogue we started in March, spoken, of course, in the language of the heart.
I'll be posting daily until I return and am looking forward to reporting to you as much as I can.
Thanks for all your hard work and I'll see you soon!
Bob H.